Overview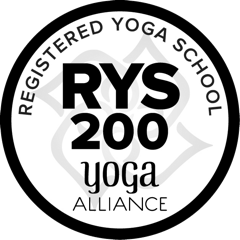 Our Teacher Training program is accredited by the international body, Yoga Alliance, to their new Elevated RYS 200 Standards.
The essence of learning yoga gives knowledge directly to the physical body, mental body and emotional body. Therefore this practice gives tremendous benefits to the way of life for those who are committed and deepen the practice.
The opportunity of joining a Yoga Teacher Training is not only giving you an important skill to teach yoga but also to elevate your way of life.
The knowledge you will learn and the experience of intense practice gives you the greatest foundation to change your perspective and find the life style that brings courage of self-expression, as well as a peaceful dignity.
Our Teacher Training Program compliment the essence of yoga practice with Balinese Spirituality in the way a perfect knowledge of the essentials in being attained.
Perfectly held in a sacred Shala, this experience could become the best gift you have taken that will change your life.
New Course Dates For 2023
Trainers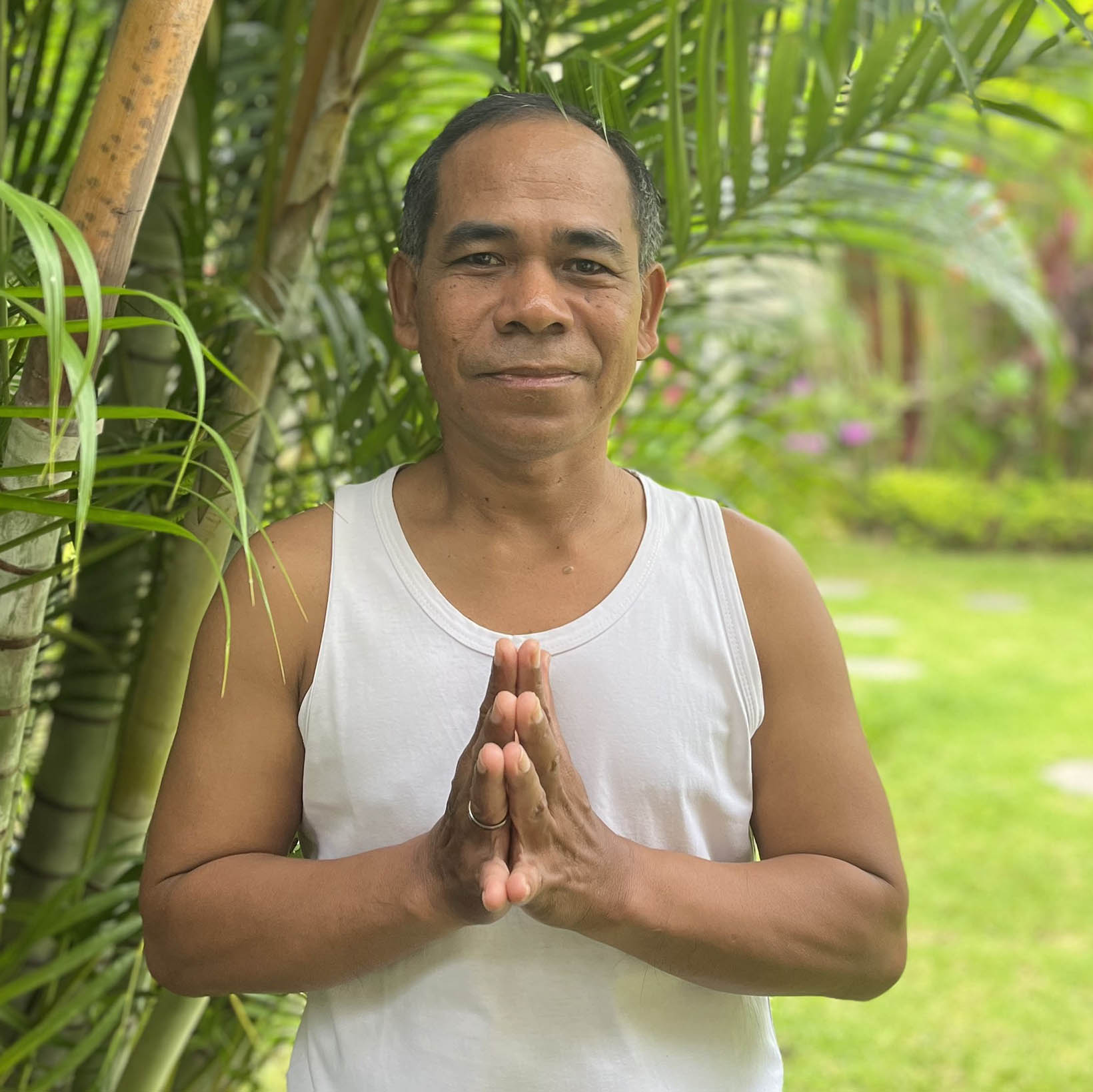 Manohara
E-YRT 500
Lead trainer
Manohara will lead the teacher training at Umah Shakti for the 200 hour teacher training course. As a Yoga Alliance E YRT 500 member, he will guide the daily activities of the course.
The intent is for the students to have a supportive learning experience. They will learn the theory of teaching yoga and have ample time to apply these learnings and find their own style and rhythm in teaching a class.
Along the way he will share some real world experiences as a learning opportunity to help prepare the students to be able to teach after graduation.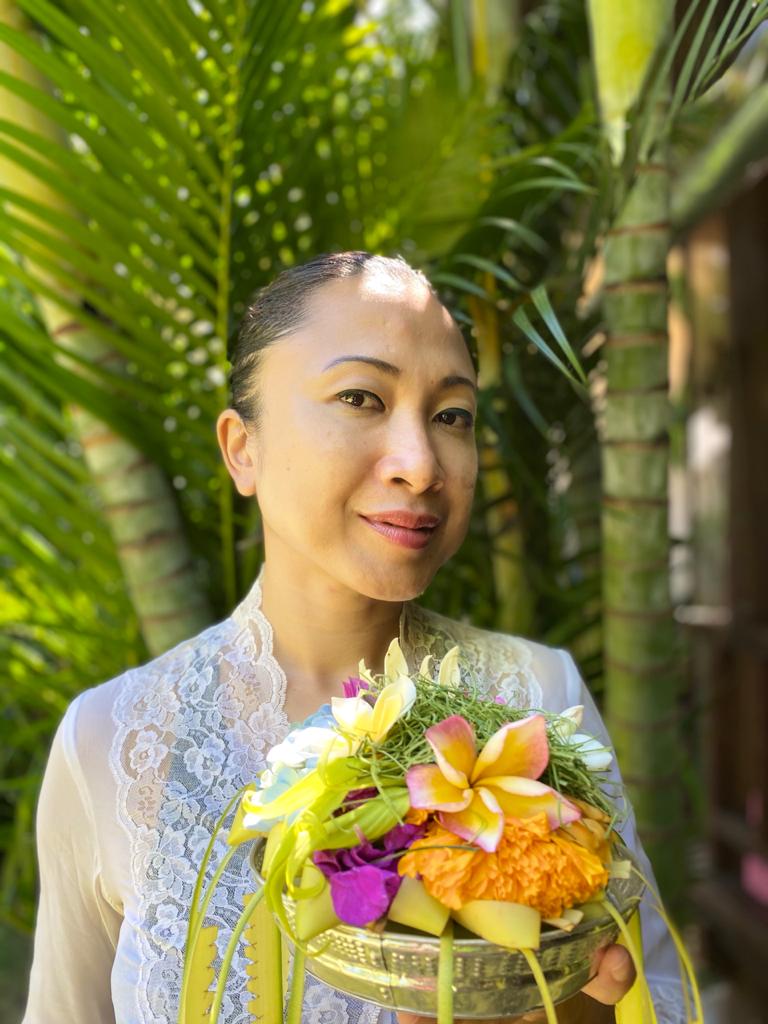 Dindha Lee
RYT 200
Class Trainer
With a wealth of teaching classes and classroom learning, Dindha brings a very experienced and understanding mindset to the program.
Her approach is based on her personal experiences and growth in her yoga journey. She will share how she strives to have an equal focus on the breath work, the asana and the mediation aspects of yoga.
She strongly believes that everyone should have the same opportunity to become a better version of themselves.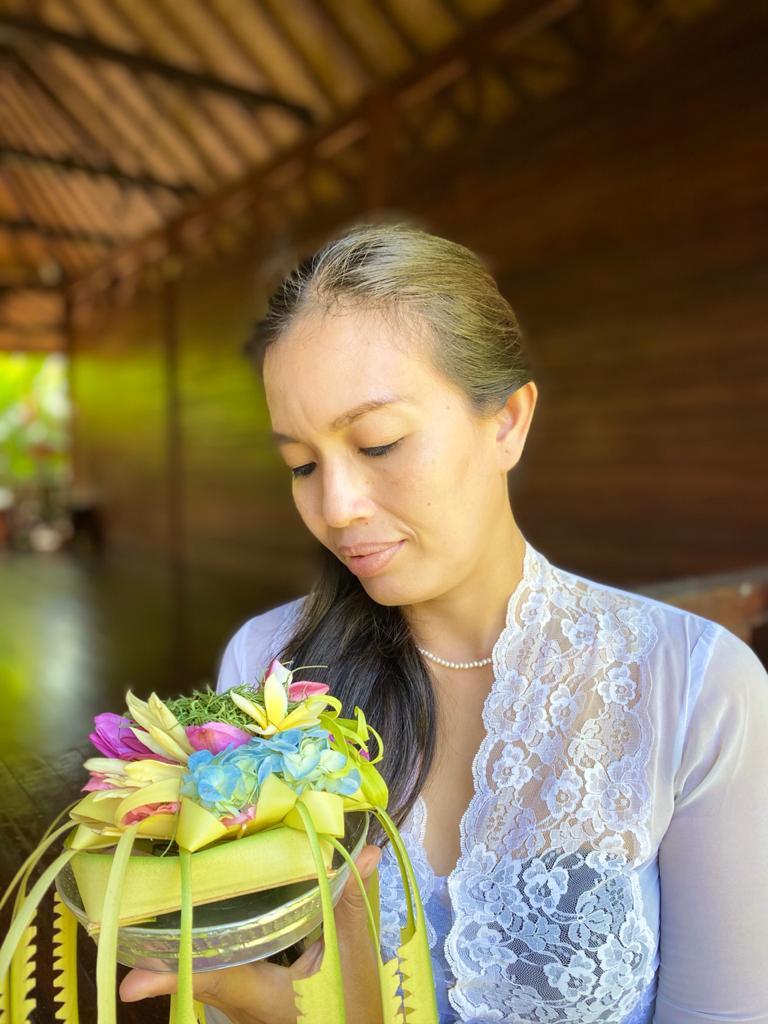 Tjok Mirah
Bali Culture Trainer
Tjok Mirah comes from the Klungkung Regency in east Bali, the center of the Balinese Kingdom. Since her childhood as a descendant of the The Royal Klungkung family she has taken part in the daily, monthly and yearly rituals that are held. They are so much a part of her now they are as natural to her as her breathing.
Since she was a child she has loved all the traditions and ceremonies of Bali. For her, preparing for a ceremony is meditation, which she does with a pure heart, sincerity, and gratefulness.
She is looking forward to share all that she knows, as this supports her intention to spread the ancient wisdom of Bali. The foundation of which, is to harmonize the human body with the universe.
Program
Our school is a Hatha style yoga and mindfulness program.
Our practice and philosophical approach is influenced by the Yoga Sutras of Patanjali, and the curriculum is structured in line with the Eight Limbs of Yoga.
This training is designed to combine ancient wisdom with modern teaching tools. It balances theoretical understanding with experiential learning, "learn by doing."
Upon graduation students are expected to have;
An understanding of yoga practice, tradition and philosophy, An understanding of postures, alignment and anatomy
An ability to sequence their own yoga lesson plans
An ability to direct their students who want to deepen their
understanding of yoga postures, meditation and philosophy.
BALINESE CEREMONIES
Purification
Purification is one of the key characteristics of Balinese spiritualism since the Vedic era and is also done by the Buddhist in Tibet and Cambodia. Dozens of sloka in the Vedic explain about this ceremony, where it is noted that our body and mind are a system (bhuana alit/microcosmos) which is a part of the universe (bhuana agung/macrocosmos).
Everything influences one another, through vibrations that we cannot see with the eye, which are called cosmic vibrations. The holy energy in the universe can transform negative tendencies in our body layers into positive.
The Universe consists of Bhur, Bhuwah, Swah Loka… and is the same as the human body. Purification is one of Balinese effort to balance and harmonize the energy within their body with the surrounding. It is the same with the Yoga Practice mainly purpose.
Offerings, the canang and daksina
One of the most ancient aspects of Balinese Wisdom is Tri Hita Karana "three causes of well being".
The three causes are: Harmony with God, Harmony among people and Harmony with nature or environment.
The Balinese believe to maintain harmony, ceremonies or rituals are needed, and all of these require offerings.
Offerings are viewed as a mantra, but because of the power of mantras, not all people are allowed to chant these. The Balinese ancestors wanted to involve everyone so they transformed the intent of the mantras to the making of the offerings. This is done as a duty and obligation by all Balinese.
In this yoga teacher training the students will take time to learn how to make the canang, a daily offerings and the daksina which is an important aspect of what the offerings mean. The philosophy that lays behind all of this and the ceremony will be clearly explained as the students take part in the offering preparation.
Trainees can expect:
Comprehensive supporting materials including manuals and instructions for use during the training and for continual reference post training
A thorough orientation to yoga practice and philosophy serving as a strong foundation for teaching and deeper self-study
A learning environment designed to be supportive of varying learning modalities
An ability to begin teaching yoga in ways that are both accessible and evidence based
Details of asana and lesson plan composition with guidance on structure, sequencing, anatomy and flow
The Shala is located behind the main house in the family compound. It faces the Ganesha shrine and is to the side of the family temples.
It was built for the extended family to practice together and provides a warm, open learning environment.
It is supplied with mats and props, with water and toilet/shower close by.
All WHO covid 19 requirements are met with the class size limited to nine students to provide adequate spacing.
This is not provided for in the tuition cost however the shala has arranged for special rates from local boutique hotels in the area.
Please contact umashaktisanur@gmail.com for more information.
Contact Us
Register
Tuition and Refund
A deposit of $300 USD is payable upon application and fully refunded if the applicant is not accepted into the course.
Full payment is due four weeks prior to the course starting and participants agree to pay any outstanding balance no later than this date.
If the participant elects to withdraw from the course two weeks or more prior to the start date then a full refund will be made, except for a $50 USD admin fee.
If the participant elects to withdraw less than two weeks prior to the start date or during the course, the full course fee or any monies paid are non-refundable.
The teacher training will offer a personal Balinese experience and in-depth learnings of yoga, with the maximum number of students limited to nine.
Wait list
If the course is full, we still accept bookings and your deposit of $300 USD will hold a place on the wait list. If we are unable to confirm your place then all monies paid are fully refundable.
Participants are asked to have attended at least 40 yoga classes within the year previous to their registration in this program. Graduation is not guaranteed. Anyone who does not fulfill these requirements in the timeframe laid out upon registration, may be required to repeat the training.
Policies
Graduation from the Umah Shakti Yoga 200 Hour Yoga Teacher Training requires the student to:
Attend 100% of all classes, whether they are offered online or in-person. Missed classes more than 5 hours and up to 10 hours must be made up by consulting with your Trainer to determine the best strategy to make up these hours.
A certificate will not be issued if more than 10 hours are missed.
Successfully complete all 4 module exams and demonstrate your understanding of the training as outlined in the Yoga Training Rubrics.
Complete a minimum of 10 Hours of Practicum (Practice Teaching which happens in the training) and to be prepared with Lesson plans for these practicum classes.
Complete payment of all program tuition and admin fees as outlined in the Registration and Tuition fees
Be on time for class, after breaks, and after lunch. Late arrival and departure from class will count as a minimum of one hour of missed class.
Share Yoga Teacher Training to Your Friends!
Subscribe